So far, the conflict in Syria – humanitarian drama where the civilian population is a clear target – has claimed about 5,000,000 Syrian refugees seeking protection in neighboring countries like Jordan, Lebanon and Turkey, according to UNHCR data.
The need for attention to the thousands of people arriving in refugee camps in northern Jordan (Za'atari and Azraq) and host communities in Lebanon, where Social Promotion Foundation is present, is pressing. Social Promotion Foundation works there with children with disabilities as a result of war wounds or poor attention in childbirth.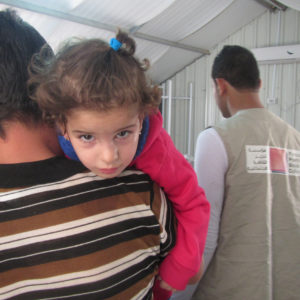 Za'atari, in northern Jordan, is the second largest refugee camp in the world hosting more than 80,000 people. In it, Social Promotion Foundation has a rehabilitation and physiotherapy clinic to attend people with disabilities, who represent 15% of the total population. Children who receive long-term treatment experience a marked improvement, and many of them begin to walk.
In the Azraq refugee camp, where 5,000 refugees from Aleppo live, Social Promotion Foundation works in a similar way. However this population could be increased by the arrival of 75,000 people who, trapped in the BERM, in no man's land between Syria and Jordan, are waiting to enter the Jordanian country.
Social Promotion Foundation's emergency activities offer long-term physiotherapeutic treatment, psychological treatment, distribution and maintenance of mobility aids (wheelchairs, orthopaedic devices, and other technical aids), inclusive activities, and sensitization on the reality and the rights of persons with disabilities.
You and I cannot end the conflict,
but TOGETHER, we can contribute
to alleviate the situation of those who suffer.