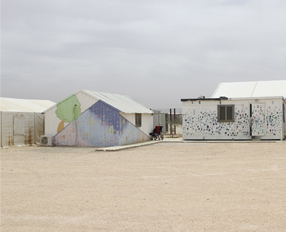 This project will aim to improve the access for disabled people or people with special needs to FPSC's areas at the refugee camp of Za'atari (Jordan) by adapting the caravans and the existing structures.
Currently, FPSC carries out rehabilitation, awareness, inclusive theatre and community participation activities in its different structures (caravans) addressed mainly to disabled children (cerebral palsy or spine bifida among others).
The physical layout and design of this area, due to the quick ad-hoc expansion of the Za'atari camp since its creation in 2012 is not currently adequate to disabled people. The implementation of basic adaptations and the changes of existing structures (caravans) would allow a better accessibility and would create an appropriate environment (hearing, visual and tactile aids) to ensure a use secure and comfortable of the space for everybody.
By improving the access and the adaptation of the existing structures in all of its facilities, the disabled people, despite its physical, mental, intellectual and sensitive limitations, will be more autonomous and thus its resilience, empowerment and confidence will be reinforced.
In addition to these adaptations, the efficacy, efficiency and the impact of the FPSC clinic will be improved as well as the ability to increase the number of the beneficiaries who will have real and suitable access to the offered services.