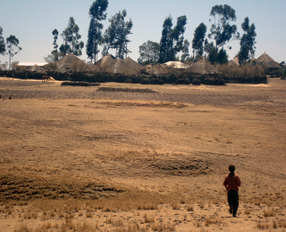 The intervention will focus on the communities of East Wellega belonging to the Oromiya region, a region with serious problems of agricultural productivity due to weather conditions, diseases affecting livestock, lack of access to agricultural supplies and inefficient exploitation techniques. The immediate consequence of low agricultural productivity is the situation of food insecurity.
Activities foreseen in the intervention will aim at promoting increased productivity of small farms in the area of intervention; will include training in more efficient farming techniques that will enable beneficiaries to produce not only different types of cereals (maize, sorghum, barley, wheat) but also vegetables. As a result communities are expected to diversify their eating habits thus minimizing dependence on a single type of crop.
In addition, an access to water through irrigation systems on a small-scale will be created, allowing the cultivation outside the rainy season.
It is further envisaged that with the treatment of trypanosomiasis the level of incidence of diseases of animals (oxen) will decrease significantly in the area of influence of the project, so that these animals may be used in field work. Natural resources will be protected and their management will be improved through reforestation, recovery of vegetation cover and soil protection against erosion and termite control.
An important component of the intervention is supporting the creation of cooperatives of small farmers, as a mechanism to boost the commercialization of agricultural production.
Priority will be given to the participation of women in the various components of the project, reinforcing the gender focus with a transverse component of training on gender equality and HIV / AIDS, which will be present in all activities.