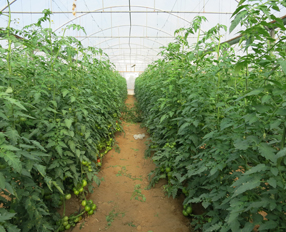 The project seeks to promote inclusive and sustainable agricultural initiatives that reduce the vulnerability of rural families in northern Gaza.
To this end, 7 partially destroyed wells during the last Israeli military operation would be rehabilitated (with the approval of MoA), which serve 57 farmers (at least 9% are women) forced to reduce by 70% its growing areas and use water for human consumption for agricultural purposes. Thus, access to water will be guaranteed to households dependent on agriculture.
Also we want to improve the capacities of farmers through specialized training to optimize the management of water resources.
On the other hand, it seeks to promote the use of renewable energy in poultry production (raising chickens and laying hens), with a positive impact on the environment through the installation of solar systems on 27 farms in the target areas (6% managed by women), ensuring food security to families, and Gaza population, to ensure basic diet products (eggs and chicken) in local markets.
To increase the impact of the intervention, training courses in the proper use of systems, depreciation, maintenance, planning and management of agricultural businesses will be given to farmers. A department within the structure of UAWC, specialized in renewable energy will also be created and training will be given to employees of the organization. Also it is expected to create a platform for promoting the use of clean energy in Gaza with the participation of rights holders and bondholders (producers, local organizations, NGOs, governments and the private sector). To this end, a symposium with the participation of all actors will be held and where this intervention will be presented as a pilot experience and we will share experiences and lessons learned.