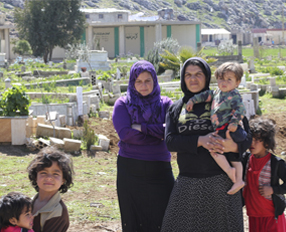 This project, in partnership with the Lebanese NGO Arcenciel, aims to address the problem of extreme poverty suffering the Syrian refugee population and improve conditions of the population of Lebanese host that negatively affected its economy by the influx of Syrian refugees.
With a focus on equal terms (people in difficulty caring for people in difficulty), it will be achieved direct contact between the refugees and the host population, and thus the integration of immigrants; It will also allow a more accurate identification of needs and specific support provisions.
Based on the extensive experience of the FPSC to address poverty and extreme poverty in Lebanon, and Arcenciel through its project "social shop" for the collection and distribution of donations in kind (clothing, accessories, sundries…) aimed at poor people, the project aims to:
To extend the network of providers of in-kind donations and encourage cooperation with various institutions (schools, municipalities, NGOs, United Nations, etc.).
Increase the current capacity of collection and distribution of donations in social shops, by improving infrastructure and management systems.
Provide training and employment for the most vulnerable Syrian and Lebanese women, through training and the creation of sewing workshops to redesign the clothes that can not be used and fix the ones that can.
The FPSC will perform the overall project management, donor reporting, monitoring and accounting; and Arcenciel, the implementation of activities in close cooperation and under the supervision of the FPSC.