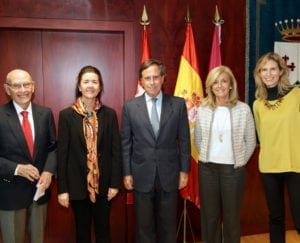 "We assign the help of our neighbors to try to alleviate the tragedy suffered by disabled children, victims of the war in Syria and also to the Cuban people after the passage of Hurricane Irma, already forgotten for many, despite being a natural disaster of only three months ago "explained the mayor of Alcobendas, Ignacio García de Vinuesa.
The Social Promotion Foundation has been helping in the Middle East for more than 30 years. The war in Syria has claimed thousands of civilian casualties and thanks to this agreement receives 22,665 Euros to improve the living conditions of disabled Syrian children in the refugee camps of Za'atari and Azraq, in Jordan. Many of them have mobility problems due to the conflict, explained Maria Beamonte, General Director of the Foundation, and we consider the distribution of wheelchairs and the improvement of the services offered in physiotherapy and rehabilitation clinics in these fields.
It was also signed with the City of Alcobendas a collaboration agreement "Red Cross Spain" in the framework of which a grant is received for its humanitarian aid project to the population affected by Hurricane Irma in Cuba.
From Social Promotion we thank the City of Alcobendas for their help and commitment to the most vulnerable people in the camps, refugees with disabilities, mostly children with disabilities.