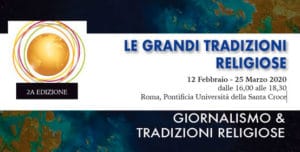 The Committee "Journalism and Religious Traditions" (Rome, Italy) organizes the Course "The Great Religious Traditions" from February 12 to March 25 that will address in-depth, on different days during that period, topics such as religions and places of life and worship, food and rites in the great religions, sacred texts and reference books, sacred literature, and religious tourism and pilgrimages
The course aims to provide basic information on the structure of the main religious traditions that are the foundation of various cultures, influencing social formations, legal structures, and the political and economic life of different countries.
Journalists, educational institutions and exponents of different religious realities (Christians, Jews, Muslims, Hindus, etc.) participate in the course to foster understanding of the religious factor in the social context and in public opinion.
The course is aimed at:
Journalists who deal with religious information.
Diplomats who work in a variety of contexts, with different religious traditions, that have a great role in the public, social and economic life of many nations.
Entrepreneurs and social agents who feel the need to have additional tools to understand the reality in which they operate. 

The course will be taught by leading referents of the Hebrew, Christian, Muslim and Hindu religious traditions.
The Committee "Journalism and Religious Traditions" is coordinated by the Faculty of Communication of the Pontifical University of the Holy Cross, the Center for Studies on the Middle East (CEMOFPS) in Italy and the Iscom Association.