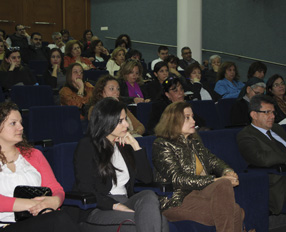 On the occasion of the 4th NGO Gathering Albert Nassar Foundation celebrated on 25th February, Rima El Khoury (FPSC) delivered a presentation on the work of FPSC and the issue of Multi-sector Partnerships & CSR.
This annual "NGO Gathering" is launched by "Foundation Albert Nassar", to introduce the possibility of a collaboration between all the NGOs.
40 NGOs were present during this gathering and took part in different debates ranging from: "Volunteering Management", "Fundraising", "Community Service", and other relevant topics.
The first part included a small presentation by three different speakers:
1.    Mrs Pascale Semaan (Australian Embassy) has shared her knowledge with the participants regarding proposal writing and how to apply for a fund from the Australian Embassy
2.    Mrs Lina Abou Farraj (American University of Beirut) presented the student volunteering program launched by the university and invited all the NGOs present to take part in the event that would introduce them to potential students interested in volounteering
3.    Ms Rima El Khoury (FPSC) made a general presentation about FPSC to introduce it to the participants, with a brief about the previous projects implemented in Lebanon since 1992 and a focus on the recent projects: "The Mental Health Clinic", "Real Madrid Foundation" and the "disaster risk management" project with the Caemacam of Metn, highlighting the CSR approach adopted by FPSC in order to create multi-sector partnerships for sustainable development.
The second part included three different workshops where participants had the opportunity to choose between the following topics: