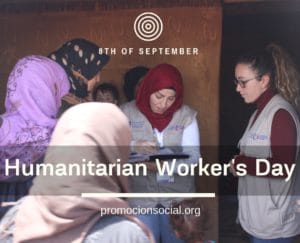 On the 8th of September "Humanitarian Worker's Day"is celebrated in Spain.
On this day, Social Promotion Foundation joins the public recognition of the work that more than 2.808 Spanish humanitarian workers carried out, in the field of development and humanitarian action outside our borders, and the diffusion of the values they transmit in the fight for the eradication of poverty, sustainable development and a more honest world.
For Social Promotion its humanitarian workers are essential to guarantee the proper implementation of the projects, which currently have as an objective, among others, the promotion of a sustainable rural development, through the improvement and diversification of the agricultural production in Palestine: West Bank and Gaza, and Ethiopia: both in the region of Oromiya, and in the Somali Region.
Furthermore, these projects help to reduce food insecurity and the vulnerability of families of farmers and ranchers. These projects include an important environmental and gender equality component that guarantee the responsible and efficient use of land and water resources, as well as ensure the active participation of women.
The work of our humanitarian workers, together with the local team, is essential to make possible the access to mental health services and services targeted at people with disabilities to Syrian refugees and the host population in Lebanon.