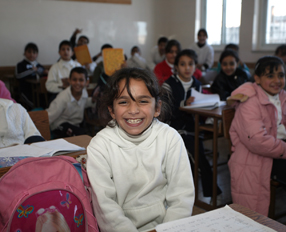 This intervention was aimed to continue and strengthen some of the strategic lines developed in the previous Agreement, executed in the period 2006-2010, giving priority to teacher training. According to the needs identified by the Palestinian Ministry of Education in its 2008-2012 Strategic Plan, the Agreement's target was to help establish some uniform quality standards in primary and secondary education in the Palestinian Territories. This involved improving the technical and human skills of the main actors in the education process: schools, universities, Ministry of Education, UNRWA, local NGOs, parents' associations and students' associations.
Among the planned lines of action, special priority was given to teacher and administrative staff training:
Setting up the first diploma course for working teachers with no teaching qualifications, recognised by the Ministry of Education.
Extending the training programme "Quality education for all through partnership" to 50 new primary and secondary schools in Palestine. This programme, created during the previous Agreement, aimed to equip schools with the appropriate pedagogical tools and has been very well received in the schools that use it.
Creating a Masters qualification in "Special Education" for working teachers. Special education was one of the great challenges facing the Ministry of Education and there was no specific programme for these teachers at any Palestinian university.
The research and development centre, fitted out during the previous Agreement, underwent an expansion with a new line of work aimed at promoting the use of new technologies in the classrooms.