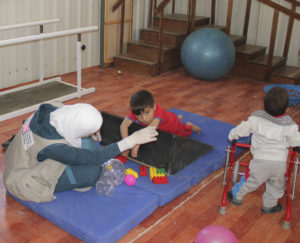 The present project intends to give continuity to the physiotherapy services that the Social Promotion team carries out in the Syrian refugee camps of Za´atari and Azraq (Jordan).
Specifically, these services provide "long-term" rehabilitation sessions (more than 20 sessions, when necessary) to approximately 140 people with disabilities, both in the Social Promotion clinics established in Za'atari and Azraq, already operational and equipped, as in-home visits, to bring the service closer to the patient in those cases in which he is unable to move.
This intervention, although open to anyone who needs it, gives priority to children with spina bifida and cerebral palsy, a problem in whose care Social Promotion has specialized since it began working in Za'atari in 2012.