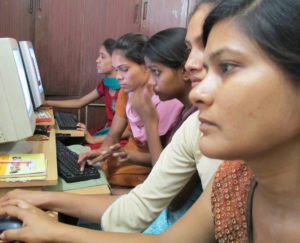 In order to continue the work started in 2007 by the local Educational Development Initiatives (EDI), which supports low-income women in southern Delhi, and to meet the demand for quality vocational training for vulnerable women between the ages of 15 and 30, Social Promotion Foundation has contributed to the construction of the Kamalini Vocational Training Center.
The support provided by Social Promotion also allows the participation of young women in vocational guidance and training programs in the villages around the new Institute in Ghamroj and Dera in Delhi and Rewari. Some of them also express their desire to help in the new training institute for women, practicing as teachers or collaborating in its promotion.
In addition, relationships are established with the community and the industry sector in order to get support for the project and bettet employment opportunities for women.
More information: kamalini.org