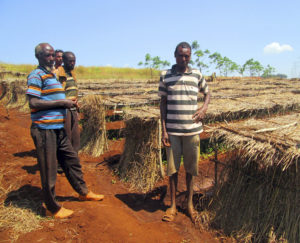 In the district of Sasiga, in the East Wellega region, the means of subsistence is mixed farming and livestock production, but their levels of production are insufficient to meet the needs of families, who suffer from food insecurity for several months a year
The cause is the lack of means on the part of the small farmers to recover the properties and fertility of the grounds or to treat the Trypanosomiasis, a disease of the cattle that reduces the possibilities of the same one for its use in the preparation of the lands of culture. Most farmers also lack knowledge, skills, and experience in alternative productive activities that allow new sources of income by diversifying their production while improving their diet.
Attending to this problem, this project intends to be the continuation of another initiated in 2014 in the districts of Diga, Guto Gida, and Sasiga. Based on this, new needs have been detected that require complementary actions and are necessary to reach a greater number of beneficiary population in the kebabs of Tokuma Tsige, Ambalta Fayera, Haro Fayisa and Badhasa Jarso, located in the district of Sasiga.
It is important to point out that local public institutions already involved in the identification and formulation of the project will also be involved in the management, through monitoring and evaluation, and participation in the training of farmers. The project, therefore, incorporates a Democratic Governance approach, guaranteeing access to basic social services, rights, and gender equality:
The Office for Women, Children, and Youth will ensure that there is an equal participation of men and women (or at least 40% female).
Finance and Economy Development Office will have a role as general coordinator with the Agriculture and Rural Development Office and ECC-SADCO-Nekemte. It will be responsible for the acquisition of equipment and supplies, the monitoring and correct evaluation of all activities, the final transfer of the equipment acquired in the framework of the project, as well as facilitating the signing of agreements with other government offices.
Agriculture and Rural Development Office, in addition to monitoring and evaluation of the project, will provide the technical assistance required, especially in the selection of crops and training in agricultural techniques.