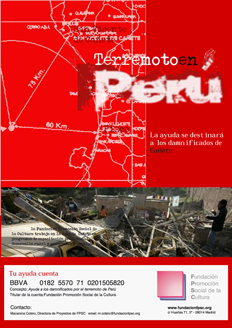 With the help of our local partner: Condoray Training Centre, and with the data provided by the Municipality, the most urgent needs were assessed in the area and the work of emergency aid began to serve the most needed families that had lost their homes. Also, the damage caused by the earthquake in some areas of the teaching Center Condoray and their economic value were studied. Thus, the FPSC held a fundraising among donors for a month. The aid collected was applied to:
Support the Condoray Program for emergency aid to cater to the families of Cañete that have suffered the consequences of the earthquake.
Contribute financially to repair the damage caused to the homes of several families in the area, beneficiaries of Condoray.