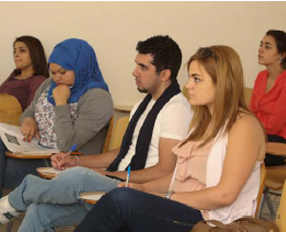 In order to contribute to greater female participation in the labour market, 10 poor young Christians have been guaranteed access to post-secondary education through a scholarship program at the American University of Madaba in Jordan.
Thus, 10 scholarships have been awarded to 10 young women, 2 from the Palestinian Territories and 8 from Jordan.
By prior agreement, the beneficiaries of the grant undertake to refund 50% of the total contribution. Furthermore, the scholarship holders, through free work in university campus jobs, may partially or fully deduct the debt.
Once the students graduate, a committee "for study scholarships" determines the amount to be refunded and the deadline for return, taking into account factors such as the date of their access to the graduate labour market.
This system helped to establish a fund to help other young people to have the same opportunities.