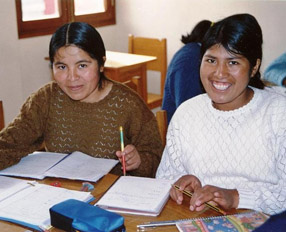 The new demands of the labour market, together with the need to broaden training options for the benefit of a greater number of economically disadvantaged women, led the CEFIM vocational training centre to consider a new strategy. With the institutional and technical support of the FPSC and within the framework of a Cooperation Programme funded by the Regional Government of Madrid, OFID and the private contributions of FPSC donors, the CEFIM has undergone several improvements over the last three years.
Wide range of training options including Technical Vocational Courses which provide rapid training for employment.
New Workshops to facilitate theoretical-practical learning, thus enabling the female students to develop their technical skills.
Design of a Teacher Training Plan to guarantee a quality vocational training which gives rise to a culture of good job performance and service in favour of personal and social development.
The CEFIM's new facilities, housed in a refurbished building, are used to train 300 economically disadvantaged women from La Paz and El Alto. One of the FPSC's most significant contributions is the institutional support given to the CEFIM in the field of teacher training and in the incorporation of new technological tools for the design and management of the training modules, budget control, etc., in order to achieve stable improvements which guarantee the future sustainability of the project.
The Education and Health Commission of the National Congress of Bolivia's Chamber of Deputies recently awarded the Centre the distinction of Meritorious Institution in the Provision of Education and Vocational Training Services.
The refurbished building has been declared an architectural and urban heritage site of the Municipality of La Paz, for having preserved the architectural values of the old building.