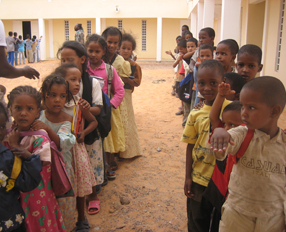 In collaboration with the Council of Ouadane it has been up a project to improve the quality of education and the school facilities through the construction and/or extension of 8 Primary Schools and a training Programme for inspectors in the region and a continuing education programme for teachers in the council of Ouadane.
An awareness raising activities Programme for the population as a whole and a training Programme for community leaders have started. 20 young representatives from Ouadane have taken part. With the aim of conducting this programme a collaboration agreement has been set with the national NGO SOS Pair Educateur. It is an organisation with a wide experience in the country.
Reading and writing courses for adults were implemented with the collaboration of the Spanish Foundation Radio ECCA, the Ministry against Illiteracy and the Regional Government of the Canary Islands. Over 200 people will benefit from this programme.
In the programme conducted in Ouadane constructions, works took place in 3 sites from 8 foreseen in the action. The training session for the inspectors took place in Atar. This training has been foreseen as cascade training: the contents taught by the experts to the inspectors were passed from the inspectors onto the teachers.
In what concerns the young people's training, 20 young representatives from Ouadane were enrolled in these programmes. Some of them after having acquired a good command of basic techniques of communication and specific training on the crucial role of schooling, they have directed 3 awareness-raising programmes in three sites in Ouadane (Ouadane, Gafoye and Tellaba). Over 150 people have taken part in these programmes (adults, parents, representatives of the student parent associations, religious leaders, representatives of women's unions and associations).