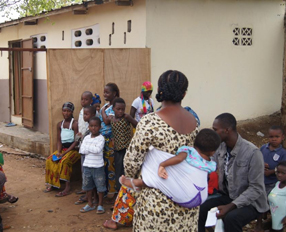 The project was developed between February and October 2013 in two districts of Abidjan: Danga Basfond and P -18, located in Abobo. Currently, and added to the negative consequences of the war declared in the Ivory Coast in 2002, many areas of the capital are suffering the aftermath of the 2010-2011 post-election crisis, especially these suburbs.
In this context, health care in this region requires emergency assistance, and through the project, the FPSC wanted to respond to this need by providing health care in two centres in these districts. Surgeries have been headed by 8 doctors and 6 nurses, providing prenatal and gynaecology services, as well as geriatrics, paediatrics, adult surgeries, an observation and wound care room, child prevention area and health education.
Free care, administration of appropriate medications and proper patient care has resulted in the presence of a large population in the surgeries and has allowed a considerable improvement in the health of this population, evident in pregnant women, reducing premature births, improving infants (weight gain, etc.) and reducing child mortality. In addition, these health services have helped prevent diseases.
Finally, the project has promoted solidarity among beneficiaries, as populations are generally separated by the use of different languages or dialects and different political ideologies have joined forces for the success of this project.