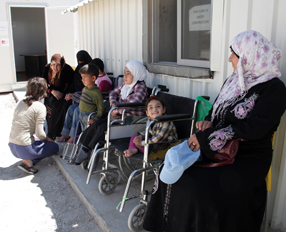 The overall objective is to improve the living conditions and independence of women, girls, boys and men with disabilities, with a particular focus on children (girls and boys under 18 years) and women, among Syrian refugees in Za'atari camp.
To do so, this project aims to achieve the following:
To distribute assistive devices.
To provide specialized physiotherapy services.
To raise awareness among the community members about the rights of the people with special needs.
To raise the capacity of other NGOs (staff and Syrian volunteers) working in Za'atari refugee camps in the identification of different kinds of people with disabilities, and the inclusion in their programs and service provision.
To train and raise the capacity of Syrian volunteers in identifying persons with disability.
To set up a long-term inclusive theatre group for girls and boys aged 11-16 years to avoid social exclusion.
To reach these objectives, while guaranteeing the quality and the relevance of the implemented activities, FPSC will adopt a case-by-case approach and will work in cooperation with other agencies in the camp in order to avoid duplication of the intervention.