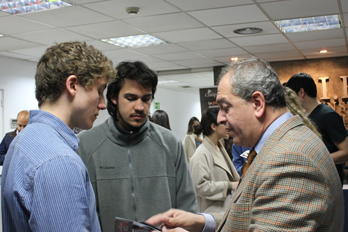 On April 4, the foundation participated in the XI edition of IEB Solidario. This solidarity event is celebrated annually and brings together at IEB headquarters some thirty Foundations and NGOs with the aim of publicizing the social work they carry out, their projects and the different ways of collaborating with their volunteering.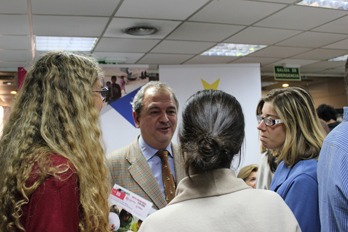 Among the NGOs present were FPSC, Caritas Madrid, SOS Children's Villages of Spain, Fundación del Valle, Youth wake up, Down Syndrome Foundation of Madrid, aecc Madrid, Sauce Foundation, Humanae Foundation, Akafi and Fundación África Directo, in addition to the Community of Madrid (DG Volunteering).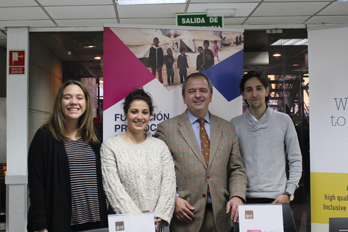 The FPSC was represented by José Luis Zatarain, Director of Communication and Volunteering, Francisco García de Yébenes, Francesca Viberti and Beatriz Zatarain, who are practicing at the Foundation, and were presenting and commenting on the FPSC activity to all participants who approached the stand.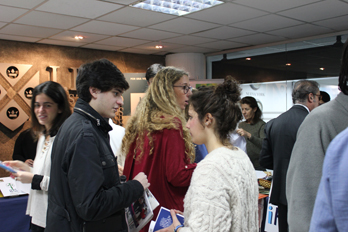 This action is part of the development education activity of the FPSC.
The students and teachers of this university centre were able to obtain information about our projects of:

Humanitarian aid: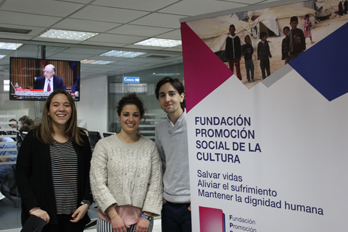 Rehabilitation and physiotherapy treatment clinic, distribution of mobility aids and inclusive theater in the Za'atari and Azraq Syrian refugee camps in northern Jordan.
Mental health clinic in the Be'kaa Valley, and "Social Shop" project for the collection and distribution of donations in kind (clothing, accessories, sundries …) for people of limited resources, both in Lebanon.
Aid to Christian families refugees in the Virgin Mary field of Baghdad (Iraq).

International development cooperation:

Agricultural development projects in Peru, Gaza, West Bank and Ethiopia.
Projects to improve conditions for access to water in Salfit (Palestine) and Mozambique.
Projects to improve maternal and child health services and training of health workers in Ethiopia.
Projects to improve food security in Gaza.
Training, education and vocational training projects for women in Paraguay, Guatemala and Kazakhstan.

FPSC volunteering projects