In October 2016, the FPSC launched a project in Lebanon with the aim of promoting education in values through sport by the implementation of the model of a Social and Sporting school designed and developed by the Real Madrid Foundation in the school of "Paradis d'Enfants"(in Jounieh) and in the public school of "Mezyara" (in the north).
Through a training program taught by specialized monitors of the Real Madrid Foundation and the delivery of teaching materials, the sports coaches of the schools will be able to continue to develop their work in a more professional way and to help each child in the search for personal and social balance.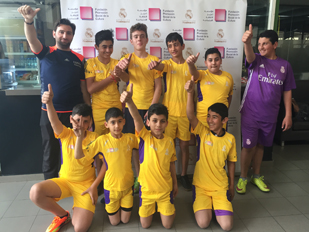 In the months of project execution, a trainer from the Real Madrid Foundation has already moved to Beirut to train 4 coaches from the Paradis d'Enfants School and 1 from the Mezyara school. He also carried the necessary sports equipment to start activities at both schools.
In addition, the First Annual Soccer Championship has been organized, which took place on Saturday, April 8 in the V CLUB. It involved 110 children aged 11 to 13 from 10 teams from various schools, NGOs (Iraki Refugees) and Clubs.
As a result, Paradis d'Enfants reached the semi-final, and Mezyara Public School, to the final. In addition, Youssef Massoud, a student of Mezyara
public school, won the award for best scorer in the tournament.
All the children showed a strong team spirit and dedication, they had fun playing, and received a certificate of participation in the championship.
Also, the girls are showing more interest in football, and two teams from Paradis and Sagesse played at the start of the tournament. The intention is to continue developing their skills and that they take part in the championship next year.
On the other hand, FPSC Lebanon has also worked on launching a profile on Facebook for this project.
During these months, it has been proven that trained coaches show more enthusiasm in their training and the training they impart not only means a progress in the practice of football by students, but also an improvement in academic performance.