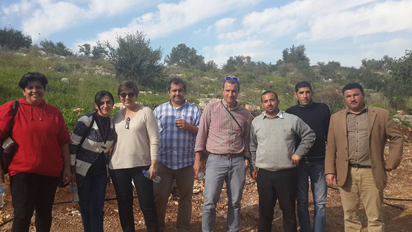 Last Thursday February 26th, Macarena Cotelo, Project Manager of FPSC, Julio de la Guardia and Manuel Cimadevilla, from Fpsc's delegation in Jerusalem, visited the activities carried out within the framework of the "Sustainable and equitable rural development in the West Bank, including the put into use and responsible management of lands and water resources for small and medium sized farmers in the governorates of Qalquliah and Tulkarem" convention, funded by AECID.
This agreement deals with the recovery of agricultural lands by means of the construction of terraces and country roads, as well as the use of clean energies and modern agricultural practices not harmful to the environment, and the reinforcement  of cooperativism as added value to create economic, social and development links.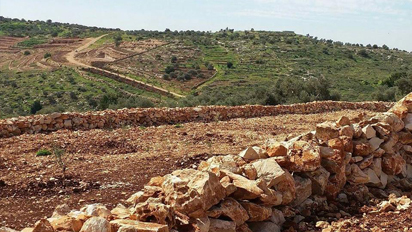 The visit took place in Al Nebi Elias, where 90 dunums have been recovered. The Works performed include land leveling; the construction of 5,400 m2 of retaining walls, cleaning and plough; seedings sowing; and the connection of vegetable patches to irrigation networks. In this area have been planted olive trees, guavas and zaatar, a highly appreciated and demanded spice in the Middle East.