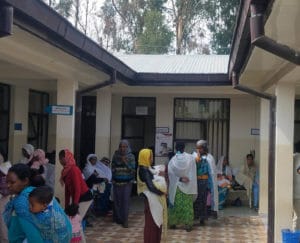 The Social Promotion project funded by the City of Alcalá de Henares, in addition to enabling the purchase of equipment, also provided training on the use of materials to the midwives of the center.
St. Gabriel Catholic Health Center is located in the Akaki Kality sub-city in Addis Ababa.
It was built by the Commission for Social and Economic Development of the Ethiopian Catholic Church and the Social Promotion Foundation, thanks to the co-financing of the Spanish Agency for International Cooperation (2007-2010) and the Generalitat Valenciana (2009-2012).
Provides a comprehensive health service to the community. Most of the services in the health center are free, since people with very few resources or in a situation of marginalization are the first beneficiaries of the facility.
It offers prenatal and postnatal care programs, prevention programs for the transmission of AIDS from mothers to children and programs for the management of diseases of children and neonates for children under 5 years.
Since its creation, the Social Promotion Foundation has promoted different projects in the field of health in this hospital.
Thanks to this Project , the midwives are currently trained and use the equipment. The administration has solved some problems related to the medical equipment in the delivery room through this donation from Alcalá de Henares.