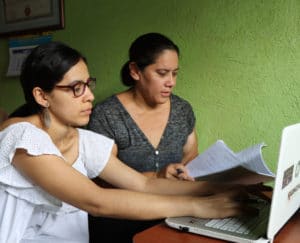 ANDECU, our local partner in Nicaragua, informs us how the project activities continue despite the consequences of the health crisis generated by the COVID-19 that hits a population already punished by the pre-existing humanitarian crisis in the country.
As a response to these challenges, they are carrying out an online and remote training program for university women, whom they call "multipliers", so that they can carry out training sessions in their communities in the rural area of the Pacific in the country.
This is what they tell us:
"Together ANDECU, the ALCOBENDAS Town Council and Social Promotion Foundation, we are facing a great challenge, and we have decided not to stop before the pandemic and to be able to empower our women, their families and communities of rural areas of the Pacific in Nicaragua, promoting resilience among them.
In ANDECU, we were planning to digitize the entrepreneurship workshops in the medium term, but the pandemic generated by COVID-19 made us to start the beginning of the digitization as an opportunity to avoid infection.
We have 20 committed university women, we call them multipliers, and they actively participate in a training on business management and life skills.
Our meeting is organised every Saturday from 1:30 to 5:00 pm through three different platforms
We use Google classroom, to upload videos, presentations, books and recordings of the sessions; another platform is used to host the workshops that have high participation; another channel is used for consultations one by one, so that the accompaniment leads them to an integral development.
We perceive after each session how they are progressing growing in leadership, and improving on how to organise and lead workshops in the rural communities.
The renewal of the teaching materials is an adventure and we also have high level professional guests who share success stories of improvement very attractive for the university students".
Our work in the framework of the project, financed by the town council of Alcobendas, "Promoting the economic, political and social empowerment of women in the departments of Managua, Masaya and Carazo in an inclusive and effective participation in community development" in Nicaragua does not stop and is adapted to the context of the pandemic.
The project contributes to mitigating the negative economic and social effects of the conflict that affect women and promoting their effective participation in community development, through their economic, political and social empowerment.