The goal of this recently finished project funded by The OPEC Fund for International Development (OFID) and implemented by FPSC and Food for the Poor is to improve living conditions for impoverished residents in the poorest rural areas of Haiti through the construction of housing with sanitation units and a water catch, as well as the provision of a solar water filtration unit.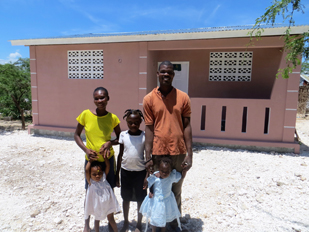 This WASH project is directly benefiting 247 families in Thomazeau, Leogane, and Les Cayes communities by providing each of them with a home. Each home includes a sanitation unit and a water cistern with a guttering connection. Each family also received a solar-powered light kit as a source of light for their new home which makes them feel safer at night. In addition, residents feel more comfortable gathering together for social activities.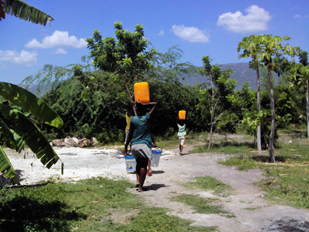 The communities are also benefiting from the provision of a solar water treatment unit. Thanks to this project, population can access to safe drinking water that will significantly improve the health of the residents by preventing the spread of waterborne diseases.
The homes were completed first, as part of a broader program implemented by Food for the Poor, and then shortly thereafter, the solar water treatment units were installed. It came at a great time given the current situation in each of the towns as they were desperate need for clean water.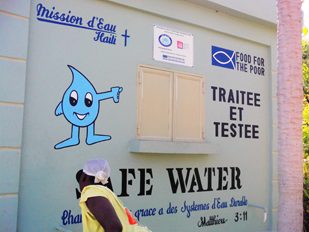 The beneficiaries were eager to assist and played a vital role in the completion of the homes by providing their assistance in digging the excavations and carrying water in preparation for the cement jobs. They were very supportive on the sites by providing drinking water for the workers and doing other manual tasks. They were very happy to participate in the construction process. They have also got involved in the management structure of water by Safe Water Committees in each community. These Committees will facilitate transformational change in the community through sustainable safe water, sanitation and hygiene education practices.
 Frenel Romain, beneficiary of the project said "Hope is just a simple word, but it means the world! We are poor but not miserable, and now that we can sleep better, we will start working on living better with more hope."
All beneficiaries are now proud homeowners. Each home is equipped with an adjacent personal sanitation unit and water cistern. This allows access to the human right to water and improve people living conditions.