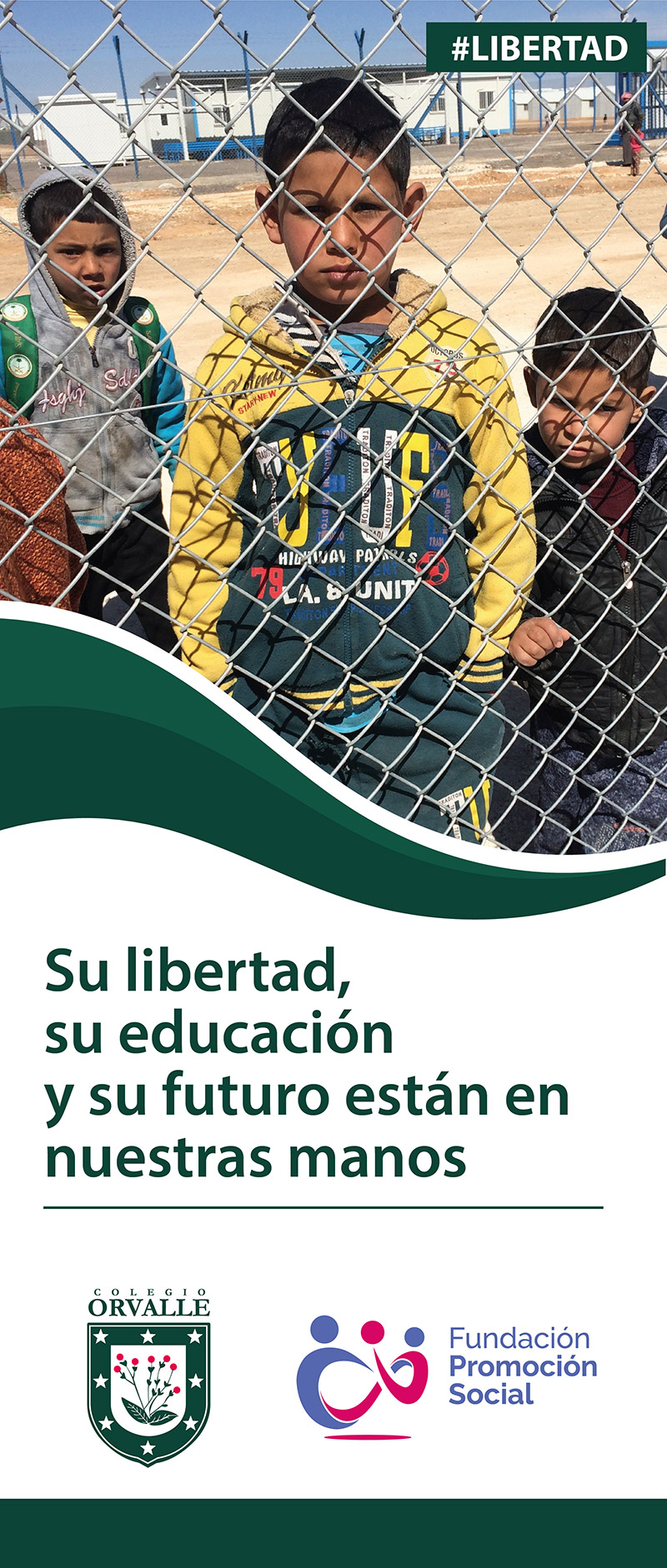 The week of October 1 to 5, Social Promotion, in the person of José Luis Zatarain, Director of Communication and Volunteering, has held awareness days at the Orvalle school in Madrid that is part of the school's goal for the 2018/2019 academic year: 'The Conquest of Freedom'.
The Foundation focused its presentation on explaining to the students the current reality of so many people and families who are victims of the war in Syria, and who have been forced to leave their homes and seek refuge in neighboring countries, such as Jordan and Lebanon. The most direct consequences, derived from this situation, severely limit freedom and the possibility of growing in conditions with a minimum guarantee of dignity.
"During the sessions, I was very pleasantly surprised by the high participation of the students, from the first years of primary school to seniors in high school, their interest in knowing the situation of displaced Syrian families and their ability to put themselves in their place.
We expect a high level of involvement of all of them during the solidarity campaign of the school in this school year", José Luis Zatarain said.
After these sessions, Orvalle kicks off its Solidarity Campaign for this school year, which aims to raise € 10,000 that will be donated to the humanitarian aid projects developed by the Social Promotion Foundation, specifically in Lebanon.
---
The Foundation's uninterrupted work experience in the Middle East began in 1992, and since then, given the concrete circumstances in this region, they have fostered an activity in which development cooperation actions are alternated and complemented with others of humanitarian character and emergency aid.
In particular, the humanitarian crisis in Syria has launched an important work of the Foundation in Lebanon and Jordan since 2013, to save lives, alleviate suffering and safeguard human dignity, with special emphasis on the most vulnerable people among the vulnerable: those with physical or intellectual disabilities.
In Lebanon, work is being done for the benefit of the Syrian refugee population and the Lebanese population residing in the host communities, in order to improve the welfare of the Syrian refugees and vulnerable population through the provision of Mental Health services, health and psychosocial support (MHPSS) in Zahle (Valle de la Bekaa). This action is part of the project "Reducing Economic Barriers to Accessing Health Services in Lebanon (REBAHS Lebanon)", funded by the European Union Regional Trust Fund in Response to the Syrian Crisis (MADAD Fund), which aims to improve access to quality health services in primary care, community health and mental health for Syrian refugees and other vulnerable populations in Beirut and Mount Lebanon, Akkar, Tripoli, Bekaa and the South.