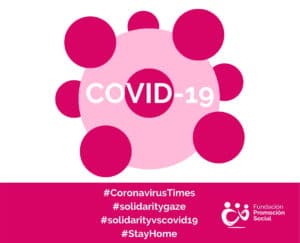 At Social Promotion Foundation we are facing the coronavirus threat with determination, and in those countries where we work we're prioritizing the safety and health of the rights holders of our projects, our expatriate staff and our headquarters, our local partners, volunteer staff and collaborators.
We abide by the authorities' security recommendations to protect ourselves against COVID-19 and we follow prevention measures together with the rest of the citizens to help overcome the virus and flatten the curve.
In the Foundation, despite the restrictions we suffer, like the rest of organizations and citizens, we are developing our work with greater determination despite the difficulties.
A great social alarm has been generated due to this serious health crisis, but despite this, gestures of solidarity among people are emerging with great force.
This is the precise moment to turn our gaze towards the most vulnerable, as this is the right time to place value on the person's dignity.
From the Foundation, in these days where the coronavirus has erupted into our lives without asking permission, becoming an obscene protagonist, we want to share with you other realities: the situations of difficulty and vulnerability that millions of people in the world go through in the countries where we work and that deserve our attention and a more supportive look.
#CoronavirusTimes
#solidaritygaze
#solidarityvscovid19
#StayHome