The project financed by the Fondazione Terzo Pilastro – Italia e Mediterraneo, and implemented with our local partner PRODES, includes a wide vocational training program.
Among the holders of rights participating in the project we find the case of Randa Zaarour, student of Hospitality Management in the Institute of Management and Services (IMS) of PRODES.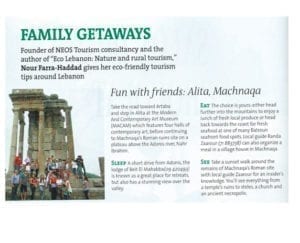 Her entrepreneurship's project, after having completed her vocational training program in Hospitality, is to be a "Local Guide" for her home town and surroundings, since it's a beautiful place with amazing natural views.
She had to prepare a business plan, (including a marketing and financial study, with brochures and tour programs).
She was also introduced to Mrs. Nour Farra owner of Neo's tour operator office, who had enrolled her in as a touristic guide for her region in "Eco Guide" book.
Randa was also mentioned as a local guide of Machnaka in as the touristic magazine "Lebanon Traveler."
Manale and Dolly Keyrouz, Two cousins' girls, originating from Deir El Ahmar village, were engaged in IMS vocational program. Their families are the most real example of Typical Lebanese Family. Their fathers work in agriculture; their mothers perform daily home tasks and produce in their homes, typical local transformed food known as "Mouneh".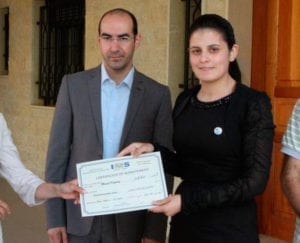 After passing through several training programs implemented by local associations, they gathered a lot of practical information about their village and its surroundings, participated in the organization of traditional local events and the reception of tourists throughout the year.
Through the Entrepreneurship program, they structured the idea of creating a rural guesthouse.
They developed a field study of the region and studied the ideal offer of activities and services, with the design of several trips and tour packages. They completed a financial study.
This tourist structure can be a reason for them to stay in their village and create new employment opportunities for other young people. In addition, it will help mothers and women in the region to improve the quality of local products and increase their sales.
Finally, diversified activities and tourist facilities will attract a greater number of tourists to this region.
The PRODES Institute of Management and Services (IMS) is providing young women such as Randa, Manale and Dolly, orientation on rural tourism, and is organizing, in collaboration with the Ministry of Tourism, awareness campaigns aimed at young people from different schools, so that they know better the potential of the Lebanese villages and benefit from them during their family visits and excursions, as new tourist destinations.