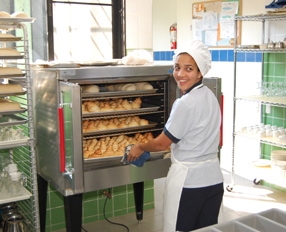 Since 2005, the local organization INDESCO and the FPSC have worked in conjunction to offer better vocational training opportunities to economically disadvantaged women from Jarabacoa, a region with great potential for job opportunities in tourism-related activities. Following the execution of several training programmes in various provisional premises, the beneficiaries' interest and demand was confirmed.
Therefore, INDESCO suggested that the facilities in Jarabacoa be expanded by creating the Serranía Technical College (Escuela Técnica Serranía) for training in hotel management and tourism services.
This project, which relied on aid and assistance from OFID and the FPSC, permitted the construction of the Serranía Technical College. The workshops were equipped for practical training activities and the design of the different training modules was improved. During the project execution period, 470 women participated in 16 long-term courses, 470 beneficiaries took part in 22 short-term courses, and 427 women benefited from 22 self-assessment and self-employment workshops. The project was carried out with the collaboration of several important institutions: INFOTEP, the official entity which coordinates and supervises technical training programmes in the country, and ADOPEM and Women's World Banking, which provided their support and advice in the different programmes.
The Serranía Technical College has been invited to form part of the Dominican Republic's Ecotourism Cluster Executive Council.