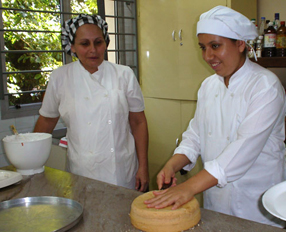 The objective of this project is to deal with the poverty situation in the country through the empowering of children and women, understood as an essential pillar for human development.
Education is the main objective of a social development plan that will be implemented in the area, as well as the best way to fight poverty.
The goal of this project is not only to solve those problems arised as a result of social and economical circumstances, but also to train people in teaching values and vocational training as an opportunity to be agents of development on their own communities, as well as accessing a source of employment.
To reach this, the first step is to build the facilities of an educational centre, where offering secondary education in better conditions to youngsters between 14 and 18 years old, as well as training women as entrepreneurs. Graduates will get the qualification "Graduated in Social Science Specialized in Cuisine and the Direction of Micro and Small Companies": the beneficiaries will receive basic education and will be trained in micro companies; so that once they graduate they will have access to a respectable job, and paying or directing their own businesses.