The Technical Institute CEFIM is a technical training centre in gastronomy that is very well known in the sector due to its high professional performance and competitiveness. It provides training to young migrant women from rural areas of Bolivia and women of limited resources in the city of La Paz and El Alto.
Currently, CEFIM needs the construction of a student residence among its facilities, which will allow them to host students with limited resources from other economically depressed rural departments of Bolivia (Santa Cruz, Beni and Potosí), where the demand for a quality education among the young population is also very high.
The construction of the residence will allow: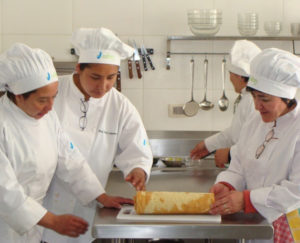 • Ensure adequate study and accommodation conditions for students coming from rural areas.
• Provide an integral accompaniment to the students coming from the rural area for their insertion in the urban work environment.
• Develop a comprehensive training program for women to train them as builders of a new society.