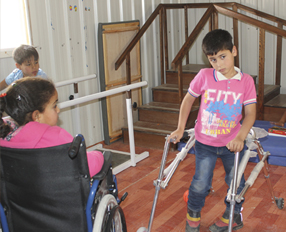 The overall objective is to improve the living conditions and the inclusion of women, children and men with disabilities, with special attention to young people aged 15 to 25 years, children under 1,  older people with functional limitations among Syrian refugees, and vulnerable Jordanian from governorate of Mafraq, the  Azraq and Za'atari refugee camps.
For this, the project aims to achieve the following objectives:
Distribute assistive devices according to the identified individual needs of people with disabilities assessed in Mafraq Governorate, and in Zaatari and Azraq refugee camps.
To provide specialized physiotherapy services for young people under 18 with disabilities in Za'atari and Azraq refugee camps.
Raise awareness among people with disabilities, their caregivers and families as well as other community members about the rights of these people with special needs of the specialized services available to people with special needs in Zaatari and Azraq camps, and the importance of integration and inclusion of people with disabilities and their rights in Mafraq Governorate, Zaatari and Azraq camps.
Improve training of Syrian volunteers in identifying persons with disabilities, recognizing their rights, their needs and protection risks: in supporting the work of the technical staff; in defense of the rights of persons with disabilities and inclusion within their community.
Support parents and caregivers of people with disabilities and CWD and FPSC staff in the field.
Set up a long-term inclusive theatre group in Azraq camp for children (aged 11-16) to tackle the risks facing some children and youth with disabilities of under – development, dependence and ultimate social exclusion; and to act as a model for inclusion in the camps and stepping stone for children towards engagement in other recreational and educational programs. Further develop the existing theatre group 'Mark of Hope' in Zaatari camp to ensure long term sustainability of the intervention.
Achieve active participation of young people in the communities of the camps to facilitate initiatives of community-based activities (CBA) that meet the needs of people within the community and at the same time promote inclusion, enhance their own abilities and promote new opportunities or improve the lifestyles of members of the community.
To provide a safe space in Azraq camp for people with disability and facilitate   recreational activities and  CBA that allows people with disability to interact with peers and engage in social, recreational, educational and community activities.
Set up a protocol about abuse and sexual exploitation, in order to prevent them and provide material standards for FPSC workers in the field.
To reach these objectives, while guaranteeing the quality and the relevance of the activities, FPSC will implement an individual assessment in order to determine the exact needs and diagnosis of each person. FPSC will furthermore work in cooperation with other agencies present in the camps and in the Mafraq Governorate in order to avoid duplication and maximize effectiveness of the intervention in benefit of people most in need.