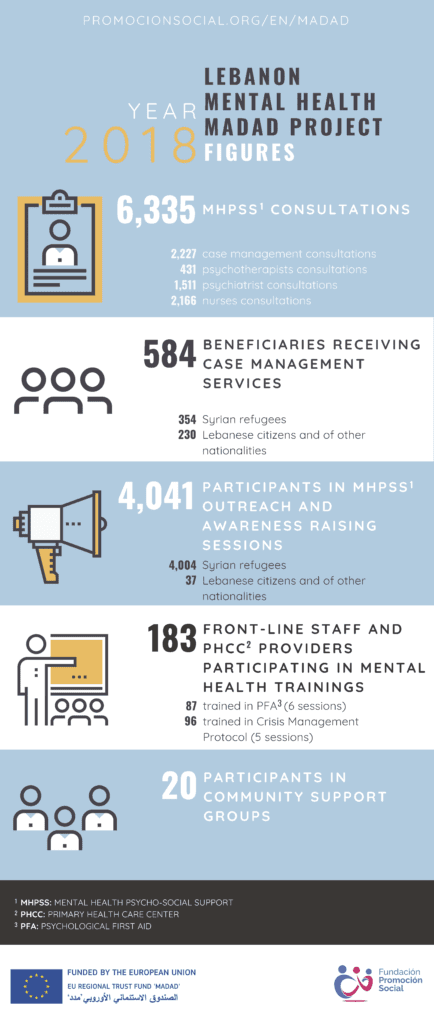 "Reducing the economic barriers to access health services in Lebanon (REBAHS Lebanon)" project
Since January 2018, Social Promotion Foundation develops this project in consortium with its partners, International Medical Corps UK (IMC) and Première Urgence-Aide Médicale Internationale (PU-AMI), in close coordination with the Ministry Lebanese Public Health (MoPH), to improve access to quality services in primary health care, community health and mental health services for Syrian refugees and other vulnerable populations in Beirut and Mount Lebanon, Akkar, Tripoli, Bekaa, and the South, in close coordination with the Ministry Lebanese Public Health (MoPH).
In the frame of the projecto, Social Promotion Foundation is responsible for the provision of mental health services and psychosocial support (MHPSS) from its specialized clinic in Zahle (Bekaa Valley).
The project is funded by the General Directorate for Neighborhood and Enlargement Negotiations (DG NEAR) of the European Commission and is based on the general objective of the European Union Regional Trust Fund in Response to the Syrian Crisis ("MADAD Fund") of respond to the "needs of Syrian refugees in neighboring countries, as well as the communities that host refugees and their administrations, particularly in terms of resilience and speedy recovery."
After one year of execution of the project, we present the main results obtained in 2018.