On the World Mental Health Day, we want to remark the importance of raising awareness and mobilize the population about mental health issues. On this occasion, the day focuses on suicide prevention.
We need to remember on this occasion that thousands of Syrian refugees suffer from mental health problems caused by the war.
Awareness to prevent discrimination against people suffering from mental health problems, not only of the refugee population, but also of the Lebanese population, is one of the most important components of our MADAD project in Lebanon through the provision of mental health and psychological support services (MHPSS) in Zahle (Bekaa Valley).
At the Community Mental Health Clinic in Zahle (Bekaa Valley), the case managers go on outreach targeting population that have probably not heard of the mental health services offered by FPS and raise awareness on several topics in mental health. The topics that the case managers are trained on include but are not limited to General Mental Health, ADHD, Psychosocial stressors, PTSD, Conduct Disorder, Dementia, Torture, Epilepsy, Depression, Postpartum Depression, Schizophrenia, Grief, Enuresis & Psychosomatic Disorder.
The awareness sessions target regions all over the Beqaa Valley extending from Southern Baalbeck all the way to the region Northern of the Litani River. The population is not limited to any nationality or gender. The outcome is not only raising awareness on mental health being diseases like diabetes and hypertension, but also detecting cases that need the services provided by FPS and are unaware of their availability.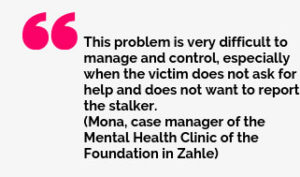 In an effort to reach not only adults, but also teenagers, society's pillars upon which the future is built, the CMHC team started communicating with schools in the region. One of the schools that replied explained that there is a need for the topics that we provide. They have been noticing that adolescents are at higher risk than before to develop symptoms related to mental health, with all the increasing pressures at school, bullying and meeting their parents' expectations.
One Mona, FPS case manager, interviewed the school's social worker; the latter noted that bullying at these ages has increased dramatically over the past few years, also evolving to include online bullying that sometimes could be considered as harassment.
This is a problem very hard to control and manage, especially when the victim refuses to say who the person is causing him/her all that grief.
The case managers raised awareness on the topic and distributed leaflets detailing the center's services, location and means of communication with the students. They also asked them to talk with their parents in case they found/though they needed more support or help. They also asked them as an exercise to try to pass the information that was shared with them with their parents as a means to target as much people as possible.
The project is funded by the General Directorate for Neighbourhood and Enlargement Negotiations (DG NEAR) of the European Commission and is based on the general objective of the European Union Regional Trust Fund in Response to the Syrian Crisis ("MADAD Fund")  of responding to the "needs of Syrian refugees in neighbouring countries, as well as the communities that host refugees and their administrations, particularly in terms of resilience and speedy recovery."