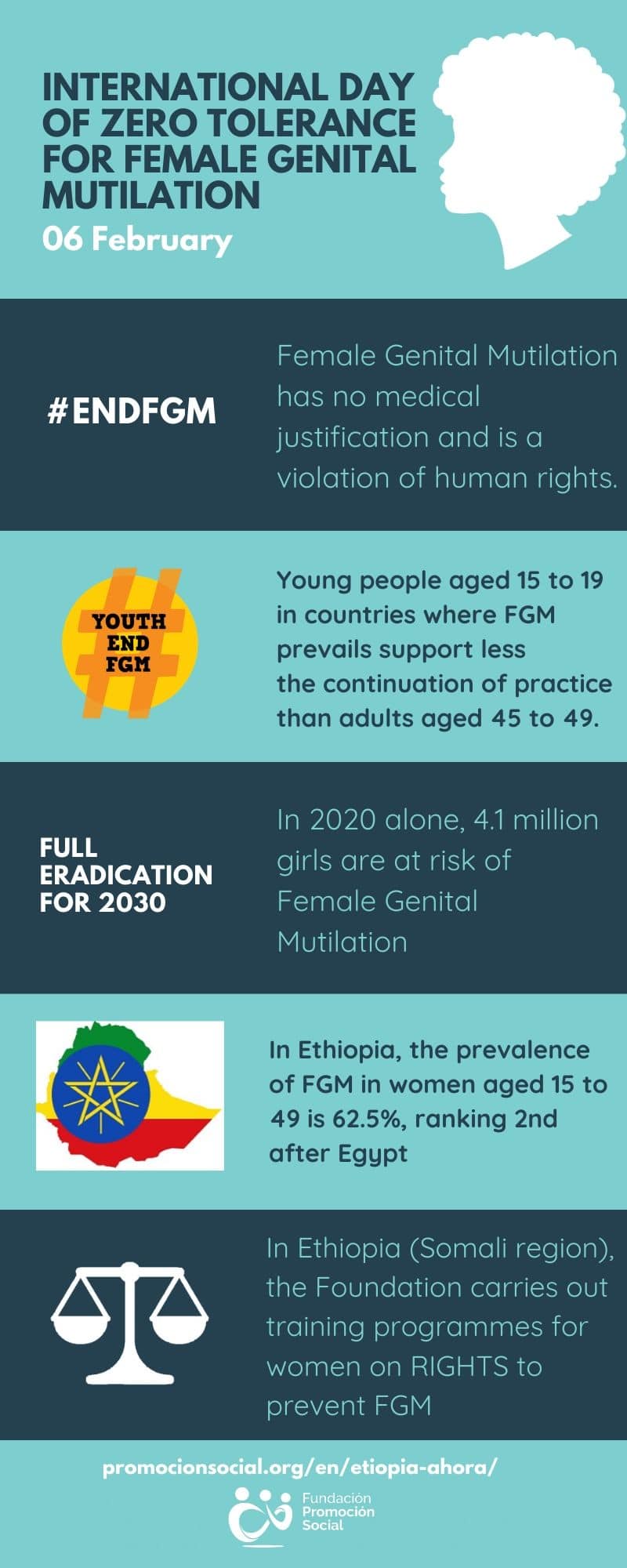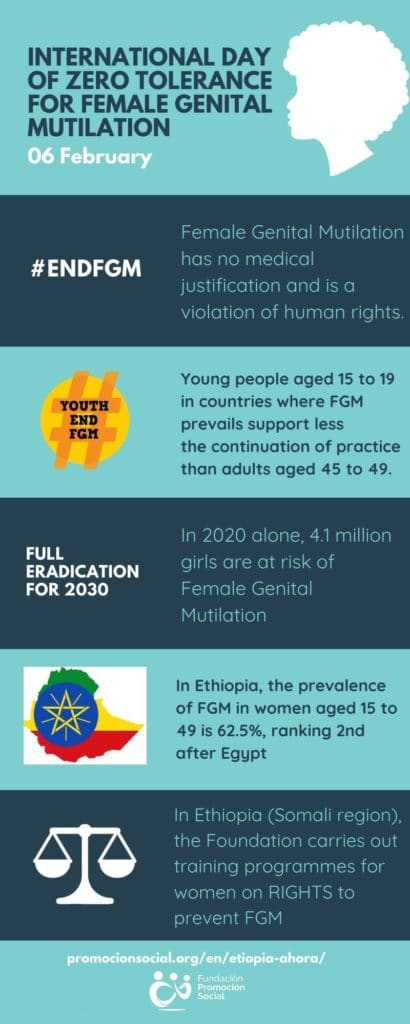 From Social Promotion Foundation, on the International Day of Zero Tolerance for Female Genital Mutilation, we join the objective of contributing to raise awareness to expand and lead the efforts for the elimination of this practice.
"Female Genital Mutilation (FGM) remains a traditional practice and the result of gender inequality that is deeply rooted in the social and economic structures of the countries and communities where it is practiced" (UNICEF).
The proportion of women in Ethiopia who have undergone FGM is very high.
In 2020, the COVID-19 pandemic has negatively and disproportionately affected girls and women and hinders the achievement of SDG target 5.3 on the elimination of all harmful practices, including female genital mutilation.
The proportion of women in Ethiopia who have undergone FGM is very high. FGM in the Somali region is the highest in Ethiopia, affecting 99% of women and girls.
The Foundation, through the agreement it is developing in rural Ethiopia, together with the NGO Rescate, financed by AECID, promotes the empowerment of women from 17 kebeles in rural communities in the Somali region.
In this sense, FPS implements its work by raising awareness and counselling on rights and for the prevention of female genital mutilation and child marriage and the promotion of their participation in the community.
In the framework of Women's Day, different activities were organised on 7 and 8 March last year in three woredas in the Jijga area to strengthen women's equality and empowerment in this Somali region in Ethiopia.
On this special day we gave women a voice and pointed out all the injustices and inequalities they suffer because they are women and/or girls.
Through these awareness raising activities designed with the women's office the aim was for the participating girls and women to learn about their rights under Ethiopian law and become agents of change to promote gender equality in their communities, challenging the misconceptions and harm caused by FGM.
To achieve this goal, women from the women's bureau and the government made speeches to encourage women and girls and to talk about the risks of FGM and any violent practices against them.
The event was attended by a wide range of actors who are trying to address all forms of gender-based violence, including community leaders who are aware of women's social, economic and participatory rights.
The Foundation's "Ethiopia Now" campaign enables everyone to collaborate in the organisation of campaigns to educate rural Ethiopian women on rights and against practices such as female genital mutilation, which are deeply rooted in the regions where the Foundation works in this country.